---
Backing-up the Database / Build a CD-Rom Archive Dialog

Through Docs2Manage
In either version, you can backup part or your entire database to an MS Access file. This also gives you the ability to write this database file to media like a CD-R where it can be accessed directly from a CD-ROM drive. You can even distribute your data and D2M on a CD-ROM using CD Mode for free.

From the File menu, select Back-up D2M Database > to MS Access file / Create Autorun CD Rom.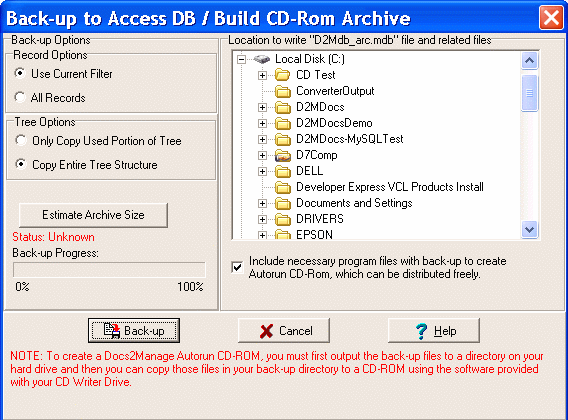 Back-up Options
Record Options
Use Current Filter - only backs up the records applied with the current filter from the search screen. This may be desirable if you want to distribute the database for a customer's account.
All Records - performs a back-up of the entire database regardless of current filter settings.

Tree Options
Only Copy Used Portion of Tree - only backs up the used portion of the tree view and the parent folders of the folders that are used
Copy Entire Tree Structure - performs a back-up of the entire tree structure

Location to write D2MArc.mdb file - select the target location of the database back-up.

Include necessary program files with back-up to create Autorun CD-Rom distribution, which can be distributed freely: Check this option if in addition to the MS Access file, you want all the files necessary to run D2M directly from an autorun CD-ROM. These CD-ROMs can be used on any Windows computer without D2M being installed.

Estimate Archive Size: This feature attempts to estimate the amount of space that will be used in your backup. It does account for the necessary files if the D2M CD-ROM checkbox if selected. This operation is not as lengthy in time as the actual backup and will reasonably predict the size of the back-up.

Back-up button: Click to begin the back-up operation. The Back-up Progress bar tracks the current status of the back-up. A message will be displayed when the back-up is complete.

NOTE: The autorun CD Mode option should work on any machine with MS MDAC installed. Earlier versions of Windows 98 and Windows 95 may require a manual install of MDAC for D2M to run properly. This can be downloaded directly from Microsoft site from http://msdn.microsoft.com/data/mdac/downloads/default.aspx.

ALSO NOTE: When a CD archive is created, Docs2Manage copies the information to an MS Access database which is the only usable database format to use on a read-only CD-ROM. MS Access has a 1Gb database size limitation. If your documents database is stored embedded in the database, you will only be able to store 1Gb of documents and data in the database (around 10,000 to 50,000 pages). If you set-up Docs2Manage to store the documents in a file format, then the database will only be used for data and documents will be store in a "Docs" directory on the CD-ROM or DVD-ROM media. The database will have much more room to store data that is used to classify the document and a DVD can store up to 200,000 to 300,000 pages. In either case the back-up process will fail if the database exceeds 1Gb. Please test the size of the archive using the "Estimate Archive Size" button.

Backing-up Manually (Outside of D2M)
MS Access Database: To back-up the MS Access database, simply copy the correct .mdb file to a safe storage device or media. This media could be a CD-ROM, which can actually be accessed by D2M in read-only mode. Be sure that no one is currently accessing the file during the copy, or you may not be able to copy the file.

Enterprise Databases: Please consult with your database administrator about your organization's back-up policies and procedures or your database's documentation back-up procedures. Also, you may copy your database to an MS Access database (file).

NOTE: Beginning with Docs2Manage 2.0, Docs2Manage has the ability to store files and documents separate from the database. Please include that file directory as part of your back-up schedule along with the database back-up.
..