---
Configuration Overview & Registration

The Configuration Program
Use the Docs2Manage (D2M) Configuration Program to configure your database connections, image storage size, image working directory, default image editor, scanner, and printer settings. Additional help is available from within the program by clicking or setting focus on the control or field you need help with and pressing the <F1> key. You may also select What's this? from the Help menu and then click the control or field to receive specific help.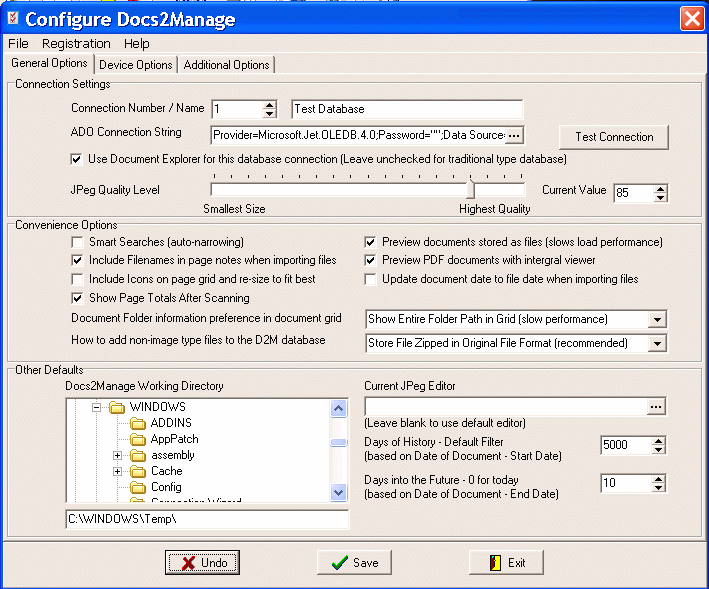 Choosing the Edition Type
Under the Registration menu, check the appropriate edition type. To read more about which edition is right for you, refer to Available Editions of Docs2Manage section in this help file.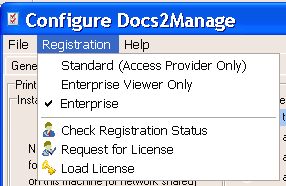 Registering Docs2Manage
When you register D2M, all the limitations concerning the number of documents allowed to store in the database are lifted. Also, the registration reminder will not re-appear anymore. For more details on these limitations, read about The Trial Version section in this help file.

To register, click Request for License under the Registration menu. The registration dialog will open and display the Computer ID specific to your computer. The Computer ID is needed when you purchase a license.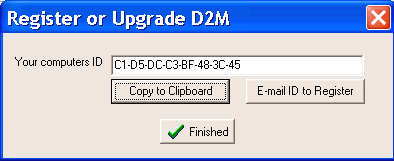 Next, you will need to obtain a license. Visit www.docs2manage.com and purchase the appropriate license. Current D2M customers are eligible for the additional license or upgrade rate.

After completing the purchase, click the Email ID to Register button on the registration dialog. This will attempt to open your default E-mail client and create a new E-mail message with all the information needed to register. Please fill in your order number, E-mail address used when making the purchase, name information and then e-mail the message. All registration E-mails are processed within 12 hours, which will include an unlock code.

NOTE: If D2M fails to open your E-mail client or you use a web-based E-mail client, click the Copy to Clipboard button and send the E-mail manually by pasting your Computer ID into the message. Be sure to include your order number and other order information described above. Send the E-mail message to service@docs2manage.com.

Once you have received the unlock code, select Load License from the Registration menu and enter the unlock code. Click the Register button and the program will tell you if the registration was successful.

Check the D2M registration status at any time by selecting Check Registration Status under the Registration menu. ..